Vamos lá tentar pôr o blog a andar outra vez. É difícil começar de novo depois de me desabituar a isto da blogosfera. Diga-se de passagem que o meu novo vício (novo? bem, nem por isso...) na net é o deviantart, por isso as minhas perdas de tempo cibernéticas costumam dar-se nessa casa em vez de nesta. Mas, enfim, vou ver se faço um esforço para perder tempo com ambas, afinal já tenho o blog há tanto tempo que não quero deixá-lo :P
Ora bem, para o blog recomeçar com sucesso, porque não falar da minha obra preferida dos últimos tempos?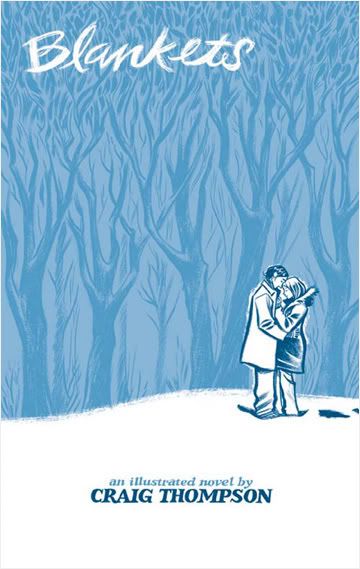 Sim. Blankets. É uma graphic novel fantástica, de facto tão boa que me é muito difícil arranjar palavras que a possam descrever. E para vocês que estão para aí a revirar os olhos, a pensar "ora bolas, lá vem ela falar de livros com macacos, raios partam que ela já é crescidinha e tem mais é que se deixar de livros de bonecada" eu digo: leiam Blankets. E depois venham falar comigo! Cada desenho é poesia; é de facto dos livros melhor escritos e das coisas mais lindas que alguma vez vi, por muito "cheesy" que isso possa soar! As palavras faltam mesmo, por isso faço minhas as da review do site Silverbulletcomicbooks.com:
"It is difficult to put into words the beauty that you will find in this book. Hell, it is hard enough to even read it without needing to take several breaks in order to try and find some breathing space from the overwhelming emotions that spill out of every panel. Merely opening the book at random lets them roam out, like some ancient spirit trapped in a book at Hogwarts library. Essentially, Blankets is but a love story - nothing more, nothing less. Yet it is written with such vulnerable bravado and drawn in such a raw, fragile fashion that it easily oversteps its boundaries and becomes a personal wake-up call to the reader."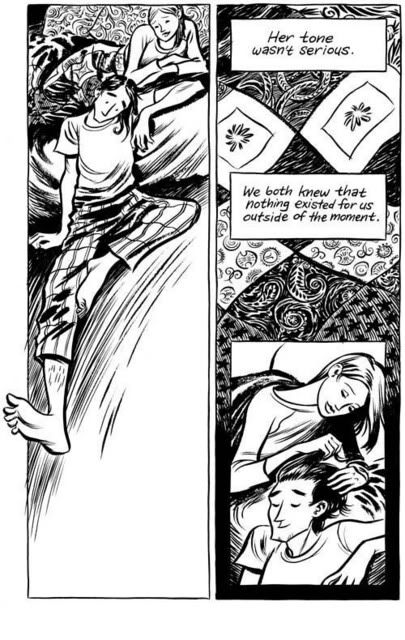 Aceitem este conselho e façam o que puderem para arranjar uma cópia de Blankets, vai valer a pena.
Passando agora a assuntos mais mundanos, é com uma mistura de repulsa e horror que vejo que o típico penteado "mullet" muito popularizado pelos rednecks pela américa fora e muito usado nessa década estranha que foram os 80's, mas que, penso, nunca viu um claro despontar aqui pela nossa terra; se está a tornae estranhamente frequente. Não é que agora farto-me de ver criaturas com mullets?? God, como se não fosse castigo suficiente ver esse penteado na televisão, agora tenho de levar com ele todos os dias? Por favor, vamos parar esta onda de mullets... STOP THE MULLET NOW!