Hoje estou de mesmos de rastos... what a fucking day. O pouco que restava do meu cerebro derreteu, saiu-me pelos ouvidos, e fugiu para o Mexico. Bye bye, hasta la vista, so long and thanks for all the shoes :P
Por isso o post vai ser curto (yay!, pensam imediatamente voces).
So para dizer que hoje, 30 de Marco de 2005, foi lancado o novo cd dos Millencolin, Kingwood.
E hoje, dia 30 de Marco de 2005, foi o dia em que eu o comprei :D Pelo menos uma coisa boa o meu dia havia de ter. O cd esta excelente, two thumbs up :) Estes gajos nao desapontam. One of my favorite bands right there. And here are the boys: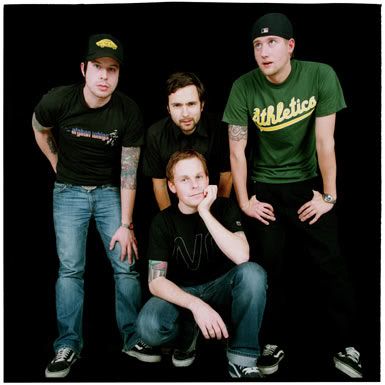 Sao os maiores. Quem gostar de Millencolin (e ha por ai umas alminhas que gostam... hehe) e favor comprar este cd, a musica merece.
Posto isto, o sono espera-me!
PS - quem me dera ter escrito um post tao entusiasmado quanto eu realmente fiquei quando comprei o cd, mas estou demasiado cansada U_U