Eu sei que disse que nao devia vir aqui postar hoje (estou que nem posso... e tenho trabalho a fazer :P), mas descobri uma coisa que tenho de postar antes que me esqueca, ou antes que seja atacada pelo "procrastination virus" (que acho que mora no meu sistema sanguineo, mas de vez em quando esta adormecido :P). Ora bem, estava eu aqui a ler um artigo para o trabalho de FVC, quando me lembrei de vir partilhar mais uma das web comics que costumo ler. Acho que e a minha favorita (tem menos piada que o Alien loves Predator, mas por outro lado ja a leio ha tanto tempo que faz parte de mim :P ou nao, mas pronto, gosto mesmo daquilo). Ora bem, o site e: www.nothingnice.com, e vai direitinho para a seccao dos links. Por isso vejam la se passam por la e dao uma vista de olhos, vale a pena :)I love it so much ^_^ Apesar de eles estarem sempre a gozar com o emo e isso lol E eu que tenho andado a ouvir tanto emo. Ouco Dashboard Confessional de uma forma quase doentia ultimamente, isso deve ser um sintoma de alguma coisa U_U Yeah, I like emo, so what? :P
Ja que aqui estou, queria referir uma coisa: o delicioso ataque de riso que tive ontem, acompanhada do Citrus e da Timli, antes da aula pratica de Genetica. Um pouco chato ter sido riso as custas de alguem, mas fez-me tao bem que nem sei explicar. Tudo porque uma rapariga que la estava falava de uma forma tao afectada, mas tao afectada, que parecia uma Tia de cascais ou coisa parecida lol estavamos os 3 perdidos de riso, mas a tentar com que nao se percebesse que nos estavamos a rir disso, senao era um bocado chato para a rapariga lol enfim, a Pura disse que era obvio que nos estavamos a rir dela, porque a cada palavra que ela dizia tinhamos um novo ataque, mas pelo menos, falando por mim, eu estava a tentar disfarcar :P O meu humor nao tem andado propriamente nos seus melhores dias, mas aquela risota foi mesmo muito boa :)
Tambem me lembrei de postar sobre uns desenhos animados que davam aqui ha uns anos no canal Panda. Aquilo deve ser mais velho que o raio que o parta, mas eram os desenhos animados mais dementes que eu ja vi em dias da minha vida. Chamava-se "Bod". Eu e o meu irmao costumavamos esperar ate a meia noite (sim, porque aquilo dava so a meia noite...) para vermos o Bod, e das duas uma: ou nos rebolavamos de riso com a profunda estupidez dos episodios e com a merdosa qualidade da animacao, ou entao iamos para cama preenchidos por um terror inominavel, pensando se haveria alguem no mundo capaz de gostar daquela coisa, e temendo pela sanidade dos criadores de "Bod". Aquilo era mesmo horroroso. Nunca vi desenhos animados tao distorcidos na minha vida. Nao admira que dessem ha meia noite, se as criancas que vem o Panda vissem mesmo o "Bod", nunca mais dormiam uma noite sem sofrerem de terrores noturnos. Para mim, o Bod e ainda mais perturbador do que, por exemplo, o Salad Fingers - mas do Salad Fingers eu gosto :P (and by the way, o Salad Fingers vai ali para os links, portanto e favor verem, nao ha desculpa).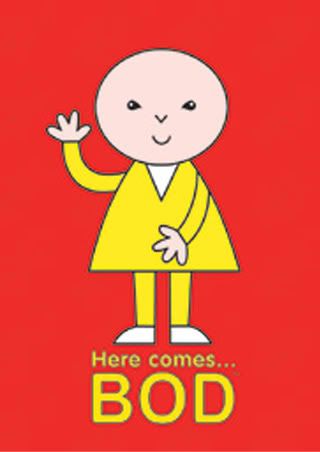 Aqui esta a opiniao de alguem sobre esta serie:
"Here comes Bod... Run! Run for your lives. Leave the children, they can run by themselves. Just run!
Not wanting to lower the tone, but this program is seriously f**ked up! The main character, Bod, is a small bald kid wearing a dress. Let me rephrase that, Bod is a small bald BOY wearing a dress.
I have a very clear memory of this program as a kid. The main reason is that it scared the crap out of me. There were shows like Button Moon which in their own little way were balancing on the edge of reality, but they weren't scary at all. Bod however, gave me nightmares.
How on earth could they call this a kids program. Bod look just plain evil. At least they could have given him some hair. Bod was Satan himself. Aunt Flo, PC Copper, Frank the Postman and Farmer Barleymow were his evil minions. The episodes seemed innocent enough, just like nightmares. You wake up in a cold sweat and after the panic has settled, you wonder why the dream was so terrifying. Welcome to the living world of Bod, a living nightmare!
I would now describe what the general theme of each episode was, but I can't. The thing is just so removed from reality that when the ending theme came on I just had to pinch myself and ask the question "what the hell was that all about?". Bod: It's not a name, but an acronym to describe some top secret hideous experiment by the government. What it stands for nobody knows, but when acronyms are used, you know it means trouble."
Podem ver um episodio de Bod aqui:
http://www.herecomesbod.com/html/bodsDream.html
Agora preparem-se, eu nao vos pago a consulta no psicologo no final.
*listening to Green Day - F.O.D.